Advanced desktop publishing package which will enable you
to create all manner of documents
.
Serif PagePlus 11
is an award-winning DTP (or desktop publishing) software which brings the power of a professional design studio to your home, business, school or club! Whether you are a beginner or a seasoned user, there's something here for you. If you're just starting out as a desktop publisher, you will get automated Wizards for just about every job. If you require professional-level features and total control, PagePlus 11 can offer those as well!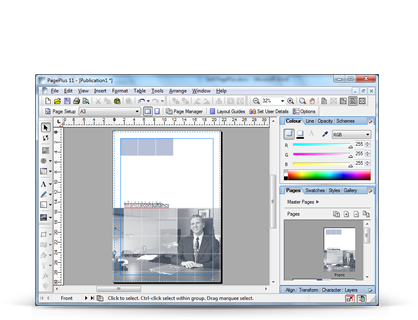 From glossy corporate marketing materials and elegant Web sites to fun stuff like
party invitations
, PagePlus 11 can handle it… Ads, brochures, business stationery, cards, letterheads, compliment slips, invoices, flyers, forms, newsletters, notices, handouts, posters, banners, price lists, reports, announcements, invitations, greeting cards even Web sites and so much more. With just your PC, printer, and PagePlus, you can save money and time
You can work with text, images and shapes which can be easily dragged and dropped into place and while many of the document you can create in the program may well be destined to be printed out, you also have the option of creating PDF. IF you already have PDF documents that you would like to edit, PagePlus 11 can import them and preserve the original formatting so you can get to work making whatever changes you need.
During the giveaway period, visit the giveaway page to download Serif PagePlus 11 for free