Encrypt personal data easily
Powerful but easy to use program that enables you to protect your files.
More and more personal data is saved on PCs. Documents, Letters, Photos and even monthly statements of accounts are often stored unencrypted. Many people underestimate the risk. The data is visible for everyone, who has access to the computer. Hackers are able to find these files easily, even if they have been deleted already.
CryptBox allows you to store your data securely. CryptBox creates Safes, which look like normal drives and which can be filled with data like you are used to in Windows.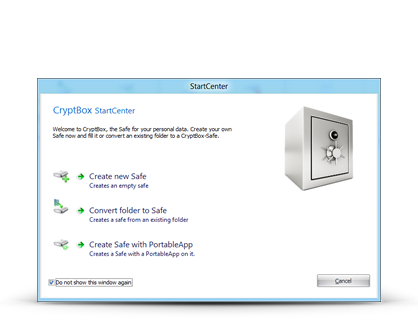 Practically every computer users has files stored on their hard drive that are for no one's eyes other than their own. There are a number of reasons you might not want certain files to be seen by others. Financial documents can reveal a great deal about you, and may be of interest to a potential identify thief, while personal files may well just include information you would rather other people that hav access to your computer weren't able to see.
Data encryption is not something that everyone feels comfortable with, perhaps because they are under the impression that it is going to be complicated. CryptBox 2012 just goes to show that it can actually be incredibly simple and that opting to use a tool that makes things as easy as possible does not mean that you have to compromise on security or features.
The program can be used to encrypt individual files, or even entire folders but adding them to or transforming them into an encrypted safe. These safes can be secured with 256-bit AES encryption and can only be accessed when the correct passcode is provided. If you would like to secure a large number of files quickly and easily, but also make it easier to access them, encrypted safes can be mounted as a drive in Explorer and you also have the option of encrypting entire drives.
All of this on its own is enough to make CryptBox 2012 a very useful tool, but there are even more features to explore. The program can also be used to store encrypted files on removable media such as a USB drive – or even an iPod – and a secure shredder is available to enable you to completely delete files that you want to ensure can never be recovered.
FEATURES:
Easy Encryption by Wizards
CryptBox is very easy to use with its wizards. They guide you step by step to your own safe and help you by choosing the right size, encryption algorithm and password for it.
AES-256 Encryption Algorithm




CryptBox encrypts your data with the AES-256 algorithm, which is approved for top secret information in the USA.

Systemdrive encryption




CryptBox does not only create safe files which can be mounted as normal drives. It also encrypts whole drives easily. Even your system drive can be encrypted, while Windows is running.

Install PortableApps into your Safe




CryptBox loads PortableApps directly from the internet and installs them into your safe. You can use your safe with PortableApps on every computer, without needing to install the applications. They run directly from the safe and all data is secure as those applications will store all their data into the safe.




TravelSafe




CryptBox allows you to create a TravelSafe, which can be exported to an USB-Stick or on a CD. If you are on the way, at friends, in an InternetCafe or at work, you still have full access to your data, because the TravelSafe can be started directly from the stick.
Already existing Safes can also be exported easily.

iPhone/iPod as key for your Safe




CryptBox accepts different types of passwords for a safe. You can even use your personal iPhone/iPod as a key for opening your safe. As soon as you plug the iPhone into your PC, the safe opens automatically.
Additionally you can use an USB-Stick, a picture password or a traditional text based password to open your safe.

File shredder




CryptBox perfectly protects your data. But how do you remove data from your computer in a safe way? CryptBox removes files in a safe way with the file shredder. Nobody is then able to restore the files.

MemoryProtect©




Malware is able to monitor the computer's RAM in order to spy out passwords. Our new MemoryProtect function encrypts passwords before the system writes them on the RAM - even during the process when the password is entered.






http://www.abelssoft.com/cryptbox.php
You can download CryptBox 2012, worth $29.95, free of charge, from
Downloadcrew Giveaway
, between 00:00 Wednesday March 21 to 23:59 March 21, Central European Time. The download link here will take you to Downloadcrew Giveaway.