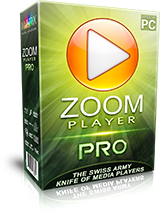 Zoom Player is the most Powerful, Flexible and Customizable Media Player application for the Windows PC platform. Based on our highly-touted Smart Play technology, more media formats play with less hassle, improved stability and greater performance.
With Zoom Player Home Professional, your Movies, TV shows and Music experience is the easiest, most customizable and powerful yet.
Key features:
Smart play – Automating filters and splitters selection for easy playback;
Playlist Manager – Providing powerful playlist manipulation;
Web Remote – Control Zoom Player from your web browser;
Playback of DRM protected movies and music – Windows Media DRM;
Safety features – Password protected options dialog, DVD Parental control and Hidden navigation functions that modify files;
Media Definitions – Save and Restore the current Aspect Ratio, Color levels, Volume level, Equalizer state and much more for every file played;
Extended command line interface – Exposing many Zoom Player functions directly from the command line.

Behind Zoom Player's classic media player look, hides a powerful Media Center application designed with a simple 5-Key (up/down/left/right/select) fullscreen navigation interface. The 5-Key system provides simple navigation with advanced interfaces. Interface such as the Media Library, File Browser, Playlist, Color Control, Audio Equalizer, Bookmarks, Play History and many more. Zoom Player's media center simplicity makes it ideal for users with no previous computer experience.
download from here :
http://www.inmatrix.com/files/zoomplayer_dlpro.shtml
or